Our Flower & Gift Shop
Shop Now
Our Staff
Our staff's commitment to you

Our staff is committed to providing support, compassion, information, and direction as needed to all members of our community, their families, and friends who are dealing with loss and grief.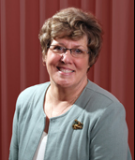 Sharon Herlihy
Owner
Sharon was born and raised in Mansfield, graduated from St. Peter's High School and has been a life-long member of St. Peter's Catholic Church. In 1967 she married Paul R. Herlihy. While Paul finished his schooling at Cincinnati College of Mortuary Science, Sharon earned her beautician's license from Cincinnati College of Beauty. After Paul finished his apprenticeship at Linn-Hert & Geib Funeral Home in New Philadelphia, they moved back to Mansfield in 1969 and had a daughter, Terri Herlihy.
In addition to their roles in the family owned funeral home, Sharon and Paul became involved in many community, church and school activites. The most significant of these activities being the Parents Club, St. Peter's Booster Club, Mansfield Freedom Festival, organization of many local parades and many factes of the Miss Ohio Scholarship Program. After Paul's death in 1999, Sharon became President and Owner of Herlihy-Chambers Funeral Home.
Sharon is still actively involved at the funeral home and especially likes working with and supporting families during their time of loss and being available to them during their journey through grief. Sharon continues to be active in many ways at St. Peter's Catholic Church, the Miss Ohio Scholarship Program since 1978 and Beta Sigma Phi Sorority since 1971. Sharon enjoys reading, traveling, doing sudoku puzzles and spending time with family and friends, especially her granddaughter, Katelyn.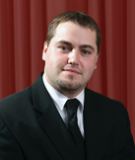 W. Brandon Chambers
General Manager, Licensed Funeral Director & Embalmer
Brandon has taken on the role managing the funeral home and has dedicated himself to upholding the longstanding traditions of excellent service that have been passed on through the generations. He was born and raised in Lima, Ohio where he started working in the funeral industry at the age of 16 for Chiles & Sons-Laman Funeral Homes by washing cars and doing outside maintenance on the three chapels. The directors there saw in him a desire to learn the ins and outs of the business and groomed him for his journey to becoming a funeral director.
Brandon is a 1998 graduate of Lima Bath High School and a 2002 graduate of the Cincinnati College of Mortuary Science with a bachelor's degree in Mortuary Sciences. He is a state of Ohio licensed funeral director, embalmer and burial insurance agent. He takes great pride in not only his ability to help families with arranging funerals, but also his abilities as an embalmer. His wife Jaime, is a 4th grade teacher at Lexington's Eastern Elementary. They have two beautiful daughters, Avery and Macy, and a son, Reed.
Terri Herlihy
Funeral Director
Terri is a 4th generation licensed funeral director here at her family's business. Born to Paul and Sharon Herlihy, she has lived in Mansfield and been around the funeral home her entire life.

She graduated from St. Peter's High School here in Mansfield, Bowling Green State University and the University of Phoenix. She is a life-long member of St. Peter's Catholic Church, the Knights of Columbus #687, and has been a volunteer for the Miss Ohio Scholarship Program since 1978 where she currently serves as stage manager. Terri continues her father's tradition of decorating the family home at Christmas time and opening it up for tours to raise money for charities in Mansfield every other year (odd years). Terri has been blessed with a beautiful daughter, Katelyn